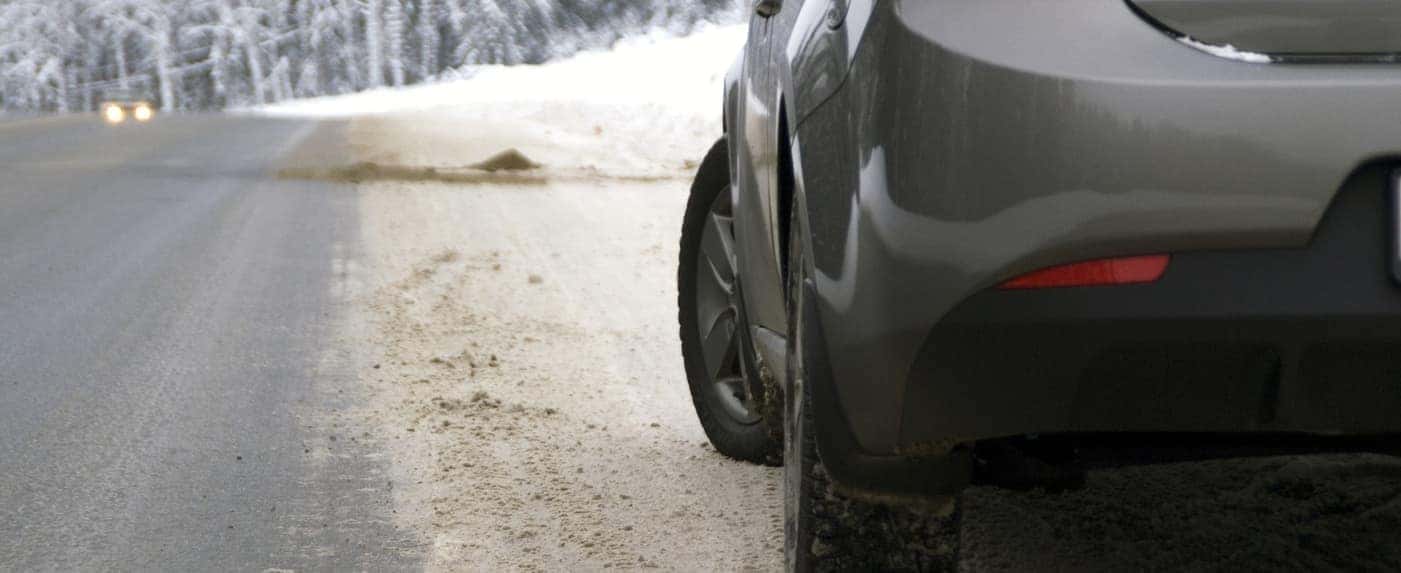 Chances are, your winter commutes and holiday trips around Bedford are either icy or paired with road salt. While no one adores that clouded look of accumulated road salt on their vehicle, or the salt corrosion it puts on your parts, the threat of icy conditions is a serious one. It's important to understand where and how road salt affects your vehicle, so you can drive safely through Londonderry without worry of serious damage, whether from the weather or its preventative measures. The first step is regularly washing your car and scheduling regular maintenance in winter, while the rest is below with this brief guide from your local experts at Tulley BMW of Manchester.
---
Why Do We Use Road Salt?
Road salt has a dual effect of providing small amounts of extra traction while melting the ice on roadways. The chemical reaction between the road salt and ice lowers the freezing point of water it comes in contact with, which allows the ice to melt and give your tires better grip with the road surface. Unfortunately, road salt corrosion comes along with the safety and security the salt brings to the roads, which means your vehicle, particularly your undercarriage, will take a hit.
The Basics of Salt Corrosion on Your Vehicle
With repeated exposure to road salt, rust can be a serious problem for your vehicle on Auburn roads. As the road salt corrodes through your paint, it can begin to bubble up, flake off, and eventually, if untreated, create a hole in your vehicle. More pressingly, your vehicle's undercarriage and mechanics, such as your brake systems, can be highly susceptible to corrosion depending on your make and model. It's a good idea to talk with your local BMW service technicians to find out how your vehicle responds to the weather, as well as take a look at your owner's manual to discover how to mitigate those effects and neutralize road salt on car systems.
How to Prevent Salt Corrosion on Car Systems
Wondering how to neutralize road salt on a car? Making sure your vehicle stays running its best can be tricky, especially in the harsh winter months. Contact your BMW specialist to stay on top of your vehicle's maintenance schedules and read below for keeping your vehicle free of the salt corrosion dangers:
Washing your car is crucial to preventative care in the winter months. Ideally, this could occur during sunlight hours to make sure your vehicle dries completely.
Upon finishing your wash routine, opening and closing your doors, hatch, and trunk, several times can prevent them from freezing shut.
Deep snow can pack up tightly underneath your car and cause its own damage, especially if paired with road salt and sand. Try to avoid driving in deep snow.
Repair paint chips as soon as possible, and protect your clear coat finish with wax applications at least twice a year.
Stay Winter-Ready with Tulley BMW of Manchester
No matter where you travel in the freezing temperatures, our specialists in Manchester are prepared for any of your winter needs. Whether you want to know how to neutralize road salt on car systems or simply get your weather preparation kit ready, our service tips and tricks and service specials will make sure your genuine BMW parts function at their best for many more calendars. As a trusted used BMW dealership, Tulley BMW of Manchester is well-acquainted with keeping your vehicle in top shape, so contact us today. We would also be happy to share how to properly clean leather seats.